Future Fuel secured £29,500 OZEV funding for Wycombe Square and installed a full passive infrastructure 6 days ahead of schedule.
Our client wanted to take full advantage of our turnkey end-to-end service and got in touch with us promptly to discuss their next steps…
We then submitted an application and secured (on behalf of our client) £29,500 worth of OZEV funding for the scheme that will cover the lion's share of infrastructure costs; getting this facility future-proofed and EVC ready.
The new OZEV funding has positively impacted not only the EV charging industry but also the leasehold sector, showing leaseholders and property managers alike that by having a passive infrastructure installed, they are ready for EV uptake when they need it and it is fully funded. This uptake is very important to not only our sector but the world we now live in. The Government announced a Road to Zero strategy in 2018 to lower emissions, aiming for car buyers to go electric by 2035.
Future Fuel installed a full passive infrastructure, 55 passive with 1 active charger already installed.
In August, we became Elite Installers of Easee and we partnered with them for this case study. We take pride in our team, their knowledge and expertise as well as their commitment to the roll-out of EV charging.
*Please click the link to see a video version, filmed by the team at Easee
As OZEV-approved installers, we can offer the best solution for each block, which are also in keeping with the new EV charge point regulations.
Future Fuel has always advocated for smart charging, seeing the benefits for residents charging their vehicles in their demised bays, including lower energy consumption and therefore overall costs.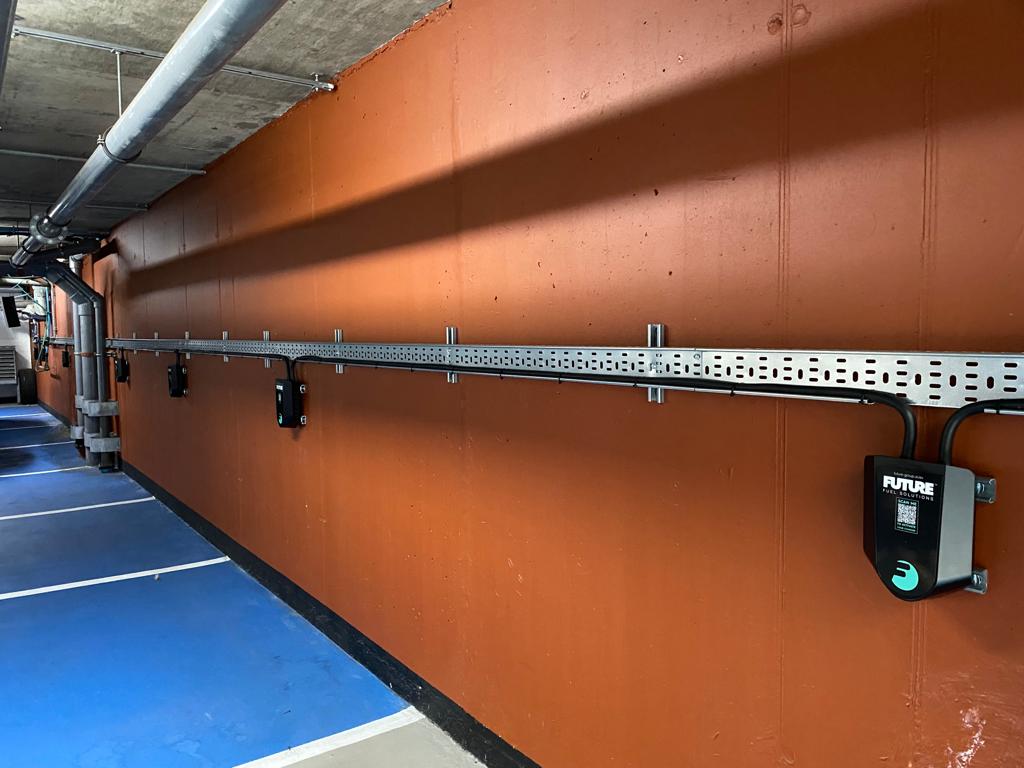 Conclusion
Future Fuel saw to a quick turnaround of 20 days (6 days ahead of schedule) to install 55 passive charge points and 1 active charger, alongside a cabling system. We will return for ongoing maintenance.
Wycombe Square is now futureproofed for EV uptake, residents can now scan a custom QR code on their passive robot, allowing any resident to transition to an active robot simply by scanning the barcode on their charger.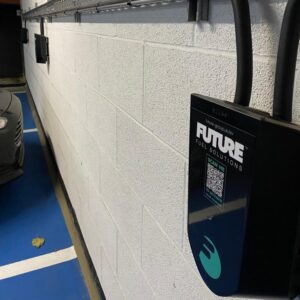 Once scanned, a member of the future team will be alerted that a resident is in need of activation, and will attend site promptly to carry out the installation.
The residents at Wycombe are now rest assured they will be able to transition to EV when they need to, without hassle. Our client has total peace of mind that their passive infrastructure is fully funded, charge points are regulated and residents are happy.
Regarding your recent installation, I can confirm that your engineers were professional throughout, careful in the way they carried out their work and always mindful of health and safety concerns, and the safety and security of the vehicles, property and people in their surroundings.

They were very informative in keeping me updated on their progress and they operated well with all staff in seeing that their installations went smoothly with minimum disruption to residents and their vehicles.

I would highly recommend them, to anyone considering a large-scale EV installation.

Peter, Estate Manager
Location: Kensington, London W8
Client: Parkgate Aspen Property Management
Building type: Residential
Number of bays: 55 passive, 1 active 7kW Point
Technology used: Easee Smart Charger
Project timeline: 20 Days (6 days ahead of schedule).
Do you have a project we could help you with?
Get in touch
T: 020 3826 9999