Huge hikes in energy prices mean it's now critical to review lighting efficiency in the blocks you manage, says Jordan Begg
When did you last check the efficiency of your block lighting? Energy prices are only going one way so it's crucial to ensure that residents aren't paying more than they need to for lighting. In a typical residential block, lighting communal areas accounts for more than 70% of electricity usage. With recent hikes in costs – and more to come this spring – residents could be facing eye-watering bills.
According to Jordan Begg, director of Future Lighting, even if you are managing a block with low energy LEDs fitted in lobbies and stairwells, you should seriously consider reviewing your lighting installations.
"We have witnessed an 80% rise in commercial-grade electricity costs over the last 10 years, says Jordan "and prices won't come down any time soon. " Future Lighting was launched in 2014 with a mission to improve energy efficiency in residential blocks at a time when LEDs were new technology. The world has moved on in the last eight years and LEDs are now standard. However, due to increasing electricity prices, even where old, inefficient block lighting has been replaced with LEDs, lighting costs are becoming prohibitive.
"Sadly, energy prices are now creating vast operating costs for leasehold blocks simply due to the rapid growth in kWh rates", Jordan says. "Even in blocks with LED lights, energy prices can now make these expensive to run. We are back to average running costs of £20pa as we were back in 2015 with old technology fittings ", he says.
And if you have blocks in your portfolio that still have old fluorescent lighting, the problem is far worse. "Imagine having a 1000 fluorescent or halogen light fittings across your development today," says Jordan. "This could equate to £50,000-plus each year without adding maintenance costs."
Car parks are even more concerning. Most still use old tech light sources while having limited footfall, so there is huge potential to create mind-blowing savings with simple modifications.
Another point that property managers may not always appreciate is that using new technology lighting gives blocks the opportunity to reduce the number of fittings that may have been installed at developer stage. Jordan explains that, with simple LUX calculations and the benefits of new lighting, reducing fittings is a simple and effective way to slash wasted energy. "We often witness this on staircases where we find wall mounted bulkhead lights facing each other from opposite sides of the stairs and in corridors where the spacing can normally be easily extended", he says.
At one project completed in a London block back in 2020, Future managed to reduce fitting numbers by almost 30%. "With controls installed and LED lights, the ROI was incredible and was achieved in less than 18 months" says Jordan. The block now benefits from a saving of +£7000pA and is paying for zero lighting maintenance costs.
Take control of your lighting
The other important point to note is that lighting controls are paramount. Lighting should be controlled at every opportunity, Jordan explains.
Smart controls switch off lights when they are not required during daylight hours.
Glazed walkways and lobbies which are flooded with natural light should be fitted with occupancy detection to control areas during used certain periods only.
Lighting sensors can switch on lights only when needed and this is particularly useful in areas such as stairwells and car parks which may be dark but don't need lights blazing 24/7.
"There are many new and wonderful technologies launching every day that can retrofit into existing systems limiting investment costs," he says.
Jordan's advice is to have blocks surveyed by a lighting expert. Regardless of whether or not you are already using LEDs, let them analyse your current system and provide solutions to prevent wasted energy, improve aesthetics and eradicate ongoing maintenance costs.
The return on investment could be an eye-opener. This is something not to be ignored as the example here shows.
Example:
Cost to run light fitting types based on a light "ON" 24/7/365
Fitting Type
Cost to run in 2015
Cost to run in 2022
30W Fluorescent Bulkhead – Typically found in Leasehold blocks
£21.00
£52.50
12W LED Bulkhead –
These have been introduced and found in most updated leasehold blocks for the last 5 years
£8.40
£21.20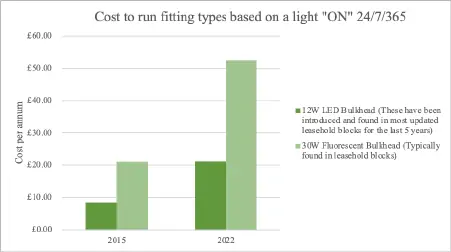 Consciously re-thinking lighting spend is something all property managers can do. It's a simple way to ensure residents aren't paying over the odds while keeping energy use to a minimum. In the drive to net zero, we all need to do our bit and we can improve the bottom line for leaseholders at the same time.
Do you have a project we could help with?
Get in touch: info@future-group.uk
T: 020 3826 9999
28/03/2022