Energy-Saving Techniques from Future Group.
Energy Crisis: A phrase we have been hearing repeatedly for the past few months. If you're feeling anxious, Future Group hopes to help with some practical energy-saving techniques for individuals and Block Managers.
With energy bills skyrocketing, many of us are feeling apprehensive about Autumn-Winter 2022. As we're entering the colder, darker months, the need to be energy-efficient is of upmost importance.
In this article, Jordan Begg (Managing Director at Future Lighting) shares techniques for your home or block to help you minimise energy wastage and keep your bills to a minimum.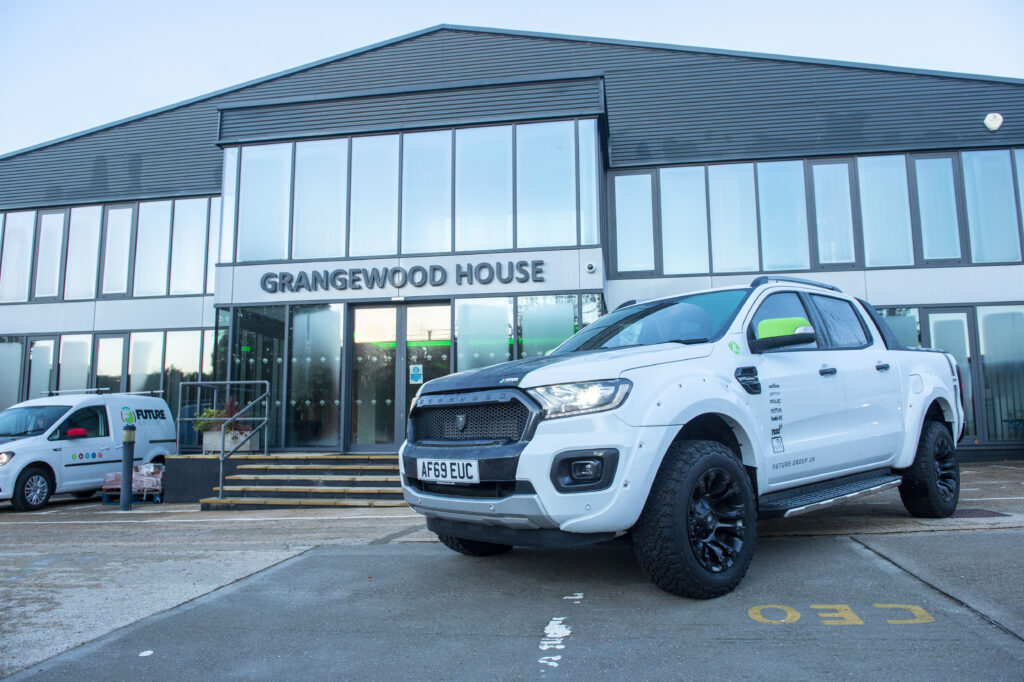 Flick the Switch
Turn off lights that aren't being used.
This is an easy one for individuals in their own homes; switch lights off whenever you leave a room and rely on natural light wherever possible.
However, if you're a resident in a block that has communal lighting (internal or external), there may be areas that are still lit 24/7, unnecessarily wasting copious amounts of energy and pushing bills higher and higher. In fact, communal lighting in blocks accounts for up to 70% of electricity usage.
Property Managers should consider installing efficient control measures in the form of time clocks, photocells or PIR/microwave motion detectors; ensuring their lighting systems only come on at the required times or when people use the space. These measures can be commissioned across the width and breadth of a block- including the worst culprits: stairwells and carparks. Solutions can be tailored to suit each environment- saving as much energy as possible and optimising efficiency.
The technology is readily available, and flexibility, value and quality is at its peak. There are untold options available to suit your needs as well as your budget constraints- all of which will not only save money on electricity bills from the moment they are installed but will continue to do so throughout their lifetime.
It's Time to Embrace LED Technology
With the news that fluorescent lamps will be banned from sale from February 2023, upgrades are no longer an option for Property Managers to simply consider. It's a necessity that they should be planning and budgeting for. Luckily, you'll be guaranteed a return on your investment as well as savings for the lifetime of the products.
Here are some of the cost-saving benefits of LED lighting systems:
A 5-year warranty on any good quality LED product should result in a maintenance-free lighting system for the same period. If your installer has the right experience and knowledge, they should be offering the same level of warranty on any labour content should parts fail. No more call-out fees to simply change a lamp and no more expenditure on parts (excluding batteries in EML products in EML systems, which if maintained correctly typically come with a 2 to 3 year warranty).
No more fluorescent lamps stored in the cleaners' cupboards, behind the concierges' desks or held as stock and forgotten about.
No more additional costs to ensure these compact fluorescent lamps are disposed of in the correct, environmentally friendly way.
Immediate reduction on consumption and electricity usage- typically, a 70W fluorescent light is replaced with a 30W LED light.
A new EML system; giving property managers and their service and maintenance contractors an opportunity to get on top of the life-saving systems in place and to freeze the on-going estimates and invoices for EML repairs and improvements.
Switch the Switch
At Future Group we still see a high level of wall mounted, high-maintenance switching systems; from wall mounted PIR's (Passive Infrared sensors) to push-to-make switching systems which, when activated, needlessly switch on the entire lighting system from the ground floor up.
Saving money starts with installing improved control methods. Ceiling mounted or built-in motion sensors allow us to switch lights on in sections or, even better, individually. Let your lighting system tell you when it needs to be activated: with the right sensors in place, we have the option to incorporate LUX controls; no more naturally lit, glazed stairwells with every single light switched on 24/7.
Getting the Right Support
Information from inexperienced, ill-informed 'experts' can result in the expensive and time-consuming cycle of repeating your energy-saving endeavours. Make sure you go to one of the many individuals in the sector that have the vast experience and knowledge necessary to guide you through the process correctly.
You should be offered a consultation to access the options available for your block and your budget, as well as being made aware of the options to overhaul your systems in a staged approach. You don't have to replace the entire system to benefit from energy and cost savings- even small changes made in stages can make a huge difference.
Future Group would be happy to help you replace your outdated fluorescent lights (which you won't be able to maintain by February 2023), with an efficient, LED system for your block, following the consultation process above. Once installed, you'll receive a 5-year warranty for parts and labour and control measures that can reduce your output from 24 hours a day to just 10 minutes a day- guaranteeing reduced bills and energy usage.
Other Useful Tips…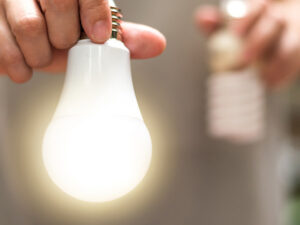 1) Keep your lights clean…
By keeping your lights clean you will increase their efficiency and prolong their lifespan. A clean bulb that is regularly dusted or wiped down will ensure maximum efficiency and prevent corrosion which, over time, can reduce the efficiency of energy transfer.
2) Utilise natural light…
Natural light is the easiest and cheapest way to light your home. As the days grow shorter, it will of course be more difficult to take advantage of this, but keeping your windows clean and blinds open during the day instead of reaching for the light switch will reduce unnecessary energy usage.
3) Unplug all your chargers and say goodbye to standby…
Many of us over-charge our phones and keep electronic equipment constantly on standby. For chargers, get into the habit of unplugging once your phone or device is fully charged. This simple habit could save you around £60 a year on your electricity bills. Switching off your 'vampire electronics' (gadgets that drain power when left on standby mode, including TVs, computers, set-up boxes and game consoles) can save you an average of £110 a year according to British Gas.
What We Offer
First and foremost, we offer free advice. Talk to us- we are keen to help and provide clarification about your options.
Then, if needed, we can follow up with a free site survey so we can discuss your specific needs and provide build analysis documentation to highlight the cost savings and ROI's available to you.
Our team are fully qualified to provide:
· Full LED lighting upgrades
· Re-commissioning of any existing control systems
· Installation of improved control measures
· Emergency Lighting service and maintenance
· Reactive repairs
· 24-hour call-out service
Feel free to head to our website to find out more, or contact the team via the details below:
T: 020 3826 9999