If you're a block manager, you'll likely understand that the lighting uses a copious amount of energy at your site. This is because there are often spaces that are brightly lit for long periods of time, maybe even 24/7.
If you're already using LED lights or are in the process of switching to LEDs, you probably have already taken a significant step in reducing your energy costs. But did you know, even with LEDs, if your lights aren't running properly, they use even more energy? Thankfully, there's an easy way to ensure that your lighting solution is functioning the way that it should, a lighting audit.
But, What is a lighting audit?
A lighting audit is a process of diving deep into your current lighting solution, making an accurate assessment of what you have currently in place, including a wattage & energy analysis.
Then, plans are drawn for what you want to have, drafting a lighting design with quantifiable data and ROI reporting, mapping out your upgrade so you know exactly where you're going.
For larger sites, a lighting audit can be a very in-depth and complex procedure. But, in layman's terms it just means capturing a record of every lamp you need to replace, and the location of each lamp with respect to your facility, including energy savings and the total return on investment after the upgrade.
A lighting audit is an important step for property managers to determine which lighting fixtures need replacing or updating. Conducting a full audit can help you implement cost-effective changes to benefit your facility and give you a better handle on the expected project cost and return on investment. Plus, it will provide you with a reference for what is already in your facility, identifying potential installation conditions if any issues were to arise.
This is where Future Lighting comes in…
We can provide you with a full audit for your site, taking into account feasibility and scalability, price and savings.
Our audits include the following:
A Feasibility Study
Wattage & Energy usage analysis
Condition Reporting
Controls Reporting
Emergency Lighting status
Additional documentation includes:
Existing Provision
Lighting Design
Quantified Data
ROI Reporting
Product Specification
Detailed Proposal
Quantified Estimate(s)
Warranty Detail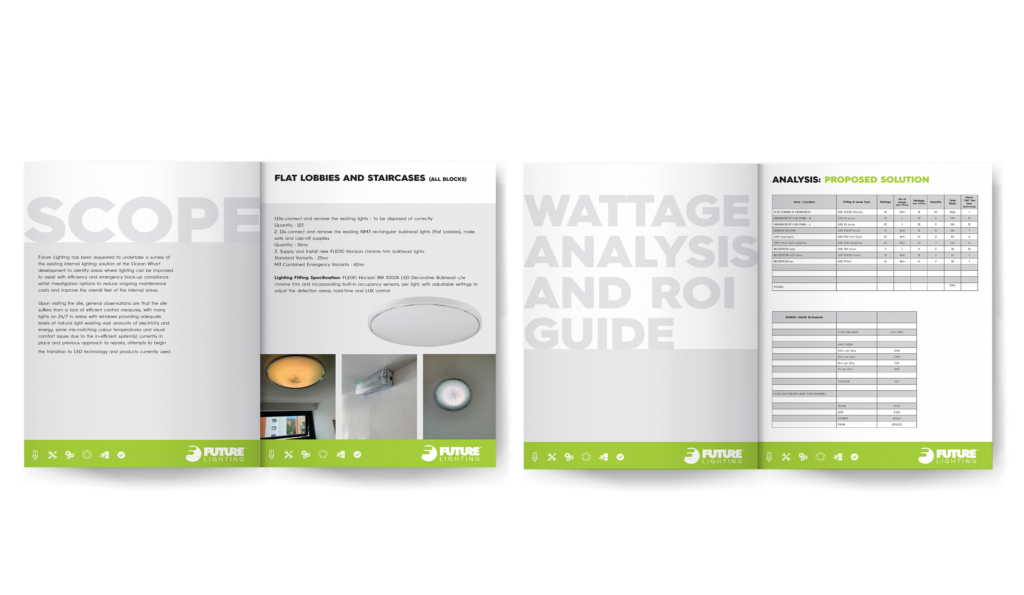 The lighting audit is important to assess the energy, potential cost saving and carbon reduction benefit of changing from one type of lighting system to another, for example, this could be changing from fluorescent technology to LED.
As your audit surveyor, we will also identify whether there are opportunities to retrofit the existing fittings or whether it is more advantageous to simply replace the fittings altogether.
We will also identify where spaces are over-lit and where fittings can be removed to reduce the overall quantity of the lighting solution.
We can also identify the controls methodology and usage of the spaces to identify if there are advantages to automating and controlling the lighting more effectively.
For most people, a lighting audit is primarily aimed at reducing their energy demand and thus costs however it's still important that good quality lighting is maintained.
Future Lighting is dedicated to assisting our clients in their lighting upgrades, ensuring efficiency and compliance. Our audits are perfect solutions for those who wish to be in the know, and fully understand their block's lighting solution while not having to deal with the hassle.
Let us do the hard work for you.
Our team are always readily available for any questions surrounding our audits…
Get in touch today!
T: 020 3826 9999