Enlightened and Energized! Get Future Lighting's Energy-Efficient LEDs with a 5-Year Warranty on Parts and Labor.
The Ocean Wharf development on the Isle of Dogs offers luxury living, a stone's throw from Canary Wharf. It's a secure development consisting of 3 blocks, perched right on the riverside. Residents enjoy incredible views, landscaped grounds, a state-of-the-art gym, communal lounge and 24-hour concierge service.
Managed by LRM Property Management, the block is beautifully maintained, but was lacking in modern lighting solutions. LRM contacted Future Lighting and requested our guidance regarding areas that could be improved in terms of:
Efficiency
Emergency back-up compliance
Reducing maintenance costs
Improving the aesthetics and overall feel of the communal areas
Survey Highlights
Future Lighting visited the block and found that a lack of efficient control measures meant that many lights were on 24/7. These lights were often in areas where natural light was in abundance.
We also found that there was some mismatching of colour temperatures and visual discomfort issues due to the inefficient systems in place as well as the previous approach to repairs and attempts to transition to LED technology.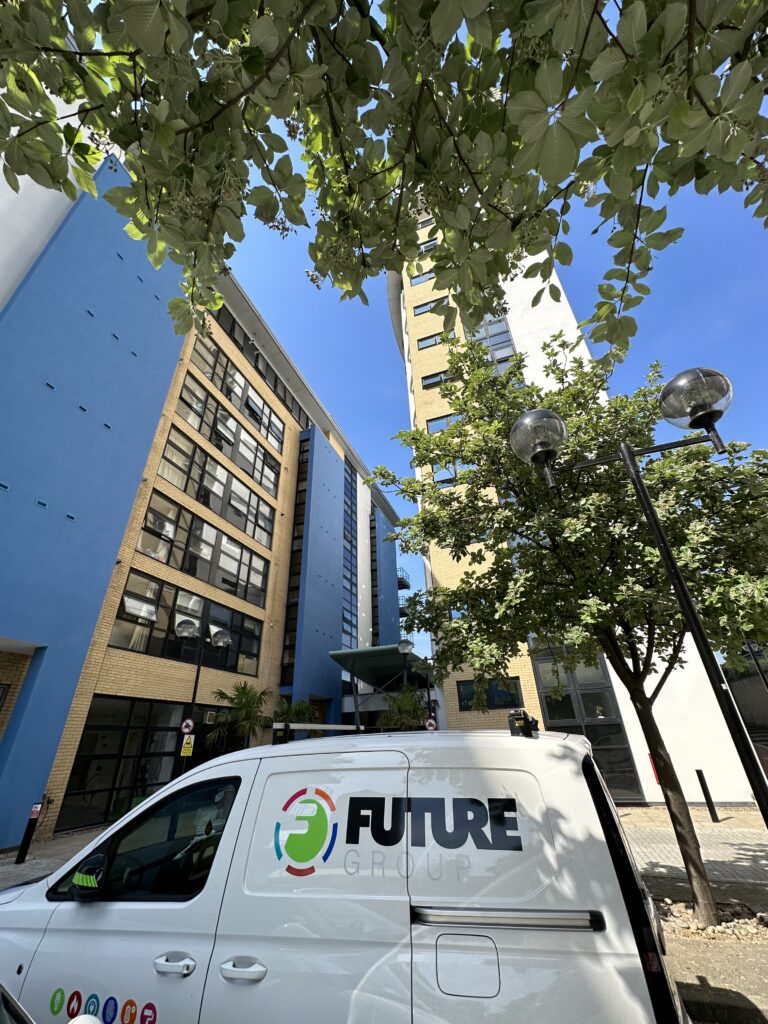 Future Lighting Solution
Future Lighting got to work upgrading the entire development, other than the main overhead carpark which may well be tackled at a later date.
The lobbies and staircases in all blocks were improved by replacing the old and tired existing 28W 2D fluorescent bulkheads with more decorative, chrome trimmed LED equivalents with built in microwave occupancy sensors, per light, to achieve optimum efficiency. All fixtures have adjustable settings to adjust the detection areas, hold-time and LUX control.
In the undercroft carpark, we reconfigured the internal wiring to bypass the existing control system before replacing the existing SON lamps with high quality LED HQL equivalents. We installed improved control measures to ensure that natural daylight is utilised as much as possible.
In the meter rooms, lift machinery rooms, service rooms and bike store, we removed the existing fluorescent strip lights and NM3 rectangular bulkhead lights and installed new combined emergency 5ft LED linear vapor proof bulkhead lights with built in occupancy sensors, per light. All fixtures have adjustable settings to adjust the detection areas, hold-time and LUX control.
In the gym and it's adjoining WC, we disconnected the existing halogen downlights and wall-mounted uplighters as well as the existing WC bulkhead. We installed LED equivalents throughout and utilised the existing control methods as they served their purpose well for this type of space.
For the reception area, we removed the existing downlights, lamps, high-level alcove floodlight, porter's office bulkhead lights and WC strip lights. We replaced them with new anti-glare LED downlights and LED lamps for the pendant droplights. We installed an improved EML system with LED NM3 mini-spotlights and added LED bulkhead lights in the staff office and the WC areas. Again, the existing control measures were retained as they were fit for purpose due to the use of the space and the supervision of on-site staff.
Results
The management team and residents couldn't be happier with the results of the overhaul. Expected maintenance costs pre-Future Lighting overhaul were around £50000 per annum (now reduced to zero) and we estimate savings of around £10,878.00 on annual bills, meaning the development will be seeing a return on their investment in just over 2 years.
.
.
Do you have a project we could help you with?
Get in touch
T: 020 3826 9999